WENSDAY NEWS: Luck Media March 24, 2007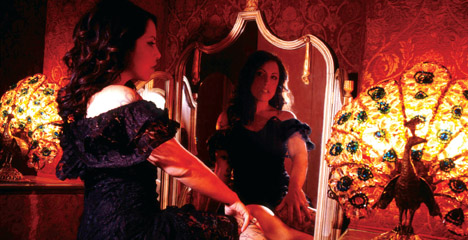 Alice Cooper Dubs Her 'The Other Girl Next Door':
Sultry Singer-Songwriter WENSDAY

Returns For Monthly Residency At Downtown LA Hotspot BORDELLO

After bringing the house down the first time around, one can expect to be nothing less than entertained by Arizona-based singer/songwriter Wensday. Her first run at downtown LA hotspot Bordello left the audience aching for more of this young and talented siren. Clips from the night can be viewed here on YouTube http://youtube.com/DesertDreamsRecords. With her monthly residency having started last month, you can catch Wensday every first Wednesday of the month hereafter starting again on April 4th. Playing alongside Wensday will be Fred Mandel on keyboard (Elton John, Queen, Pink Floyd, Alice Cooper) and guitar virtuoso Ron Berman. A sultry and sweet chanteuse one minute, a bold and edgy rocker the next, rock legend Alice Cooper sums it up best, "Wensday is the other girl next door." She brings a magical multiple personality to her explosive debut album whose title forges an exciting new musical hybrid: Torch Rock.
Her diverse musical backgrounds as a jazz and rock singer, combined with her blues and classical training make Wensday simply way too cool to peg. Since graduating with a drama degree from NYU—where her social life gathered around weekend raves--she's complemented her sophisticated jazz gigs with work as a body piercer in renowned tattoo parlors in Miami and Atlanta, in addition to taking on multiple roles as teacher, director, vocal coach, playwright and Associate Director of All Childrens Theater in her hometown of Providence, Rhode Island.

Located at 901 E. 1st St., Bordello, formerly Little Pedro's, flirts with the notorious past of its infamous location, as the oldest bar and brothel in Downtown Los Angeles, by reflecting its legendary status as a theater of the unusual and provocative. The completely renovated and colorfully redecorated venue has been appropriately renamed by famed L.A. club owner Tony Gower, celebrity designer Dana Hollister, revolutionary urban planner Elizabeth Peterson and innovative restaurateur Jim Venetos.


WHO: Sultry singer-songwriter WENSDAY

WHAT: Performance in support of debut album Torch Rock

WHERE: Downtown LA Hotspot Bordello, 901 E. 1st St., Los Angeles, CA 90021 (213) 687-3766 (former location of Little Pedro's)

WHEN: Wednesday, April 4th, 1st set-time: 9:30pm, 2nd set-time: 11pm


# # #
For more information on WENSDAY or to arrange an interview contact:
Steve Levesque or Jennifer Malazarte
at Luck Media & Marketing, Inc. at (310) 860-9170
info@luckmedia.com, www.luckmedia.com, or www.wensdaymusic.com