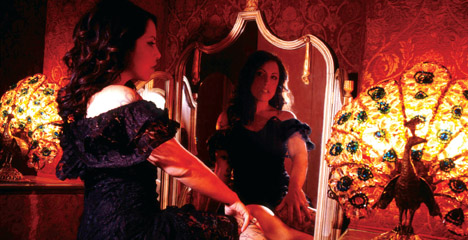 Alice Cooper Dubs Her
'The Other Girl Next Door':
Sultry Singer-Songwriter WENSDAY
Sign up for Wensday's Official Newsletter!
See Wensday LIVE
Upcoming Schedule & Events:


2009
Dec 17

201 CLUB - PREMIERE OF WENSDAY & THE NEW MEDICINALS
201 West,minster St. $5 cover

Providence, RI
TBA
Dec 11-12
JINGLE BELLES AND A FEW BALLS, A SPACE ODYSSEY
Benefit for the Perishable Theatre's Education Program
15 Empire St, Providence, RI Tickets: $20 - $50 7:00pm and 9:30pm
Providence, RI
7:00pm and 9:30pm
Oct 18

KICKING THE SNOT OUR OF SNUC
Wensday performing at a fundraiser, "Kicking the Snot out of SNUC", a benefit for Kathleen Gingeresky.

ALBANY, NY
2-7pm
Sept 7

WENSDAY RECORDING IN L.A.
Wensday will be travelling to LA at the end of the month with Desert Dreams to record a song with Motown Legend, Bobby Taylor.

LOS ANGELES, CA
TBA
June 27
WRENNAISSANCE BENEFIT FOR ALL CHILDRENS THEATER
Rhodes on the Pawtuxet 60 Rhodes Place, Cranston, RI - $35-$80

Benefit for All Children's Theatre of which Wensday is a founding member, also a going away party for the theatre's founder Wrenn Goodrum who is retiring after 21 years! Wensday is conceiving, directing, and appearing in a special performance. For $80 come at 6 for a cocktail hour followed by, dinner, dessert, silent auction, dancing, and performances by ACT actors and alumni For $35 arrive later at 8:30 and join us for dessert, silent auction, dancing, and the performance by ACT alumni and current ACTors. or Host a table $750 RSVP by June 5, 2009 401-728-1222
CRANSTON, RI
6:00pm
June 25

ROCHAMBEAU BRANCH, PROVIDENCE PUBLIC LIBRARY
708 Hope Street, Providence, RI 02906

Jazz @ Rochambeau is a new series of musical performances celebrating some of our best local jazz talent. It is supported by the Friends of Rochambeau and hosted by jazz impresario and keyboardist Mike Miller.


PROVIDENCE, RI
7:00pm
June 19
BENEFIT CONCERT FOR GREENLOCK THERAPEUTIC RIDING CENTER
Rumstick Rd, Barrington, - $50 suggested donation per person
Wensday will appear with a piano accompanist and sing jazz standards and original songs in a beautiful intimate setting. Details upon request. Please contact Greenlock for more information. greenlocktrc@gmail.com
BARRINGTON, RI
7:30pm
May 28

POKER 4 Life TOURNAMENT
Manhattan Auto Company, New York, New York - $100-$250
Charity poker tournament to benefit the Buoniconti Fund to Cure Paralysis. $100 for the cocktail reception, $250 to play. The winner gets a seat in the World Poker Tournament.

NEW YORK, NY
5:00pm
April 4
TEMPE MUSIC FESTIVAL - TEMPE BEACH PARK

TEMPE, AZ
1:45pm
March 21

CHICKS WITH PICKS FESTIVAL - TEMPE BEACH PARK

Live Interview with Wensday on WOMEN IN ROCK RADIO
http://www.archive.org/details/WensdaycynfullyLusciousInterview31909


TEMPE, AZ
5:15pm

2008
December 16
BS WEST - CHRISTMAS PARTY
SCOTTSDALE, AZ
10:00pm
October 11
zGIRL CLUB
PHOENIX, AZ
9:30pm
October 03

Phoenix Runway at the Herberger Theatre
in support of Alice Cooper's Solid Rock Foundation
TICKETS: $50

WENSDAY is the headliner for this show, walking the catwalk and introducing a personal video from Alice Cooper!

PHOENIX, AZ
7:00pm
October 03
TEMPE OKTOBERFEST - at Tempe Town Lake
TEMPE, AZ
5:00pm
September 13
BS WEST
SCOTTSDALE
9:00pm
September 11
THE RHYTHM ROOM
1019 E. Indian School Rd - Tickets: $8
PHOENIX, AZ
8:30pm
August 22
FESTIVAL OF SAIL
SAN DIEGO, CA
7:00pm
August 12
AZ Chicks with Picks @ Buffalo Chip Saloon
CAVE CREEK, AZ
7:30pm
August 6
WATCH FOX 10 News 9pm News
Feature story with live footage filmed at the Rhythm Room, interviews and more!
FOX NEWS
9:00pm
August 6
THE RHYTHM ROOM
PHOENIX, AZ
8:30pm
July 26
zGIRL CLUB
PHOENIX, AZ
July 25
PHOENIX MERCURY GAME
PHOENIX, AZ
7:00pm
July 11
THE MARQUEE THEATRE -
OPENING FOR TODD RUNDGREN!
TEMPE, AZ
8:00pm
July 10
WATCH FOX 10 News 9pm News
Feature story with live footage filmed at the Rhythm Room, interviews and more!
FOX NEWS
8:00pm
July 2
THE RHYTHM ROOM
PHOENIX, AZ
7:30pm
To book Wensday for your venue, please go to our Contacts page.